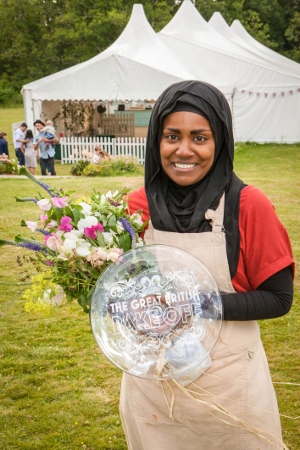 Nadiya Hussain shows the right way to defy stereotypes
When a story involving Muslims makes national headlines, it is far too often related to tales of jihadi, terrorism or grooming gangs.
So, when little Nadiya Hussain stole the nation's hearts with her cooking skills on BBC's hit series, The Great British Bake Off, something strange happened – a positive story was born.
Claiming victory in the final show on Wednesday evening in front of a television audience of over 13 million people, Nadiya will now undoubtedly see a bounty of opportunities thrown her way.
However, despite clinching the 'Baker of the Week' title every other Wednesday night, there was also a different battle being carried out away from the screen as Nadiya, perhaps unwittingly, set about changing the public's perceptions on Muslims.
Wearing her trademark headscarf every week – covering her neck and hair from the cameras, Nadiya always displayed her faith on screen.
At first, it may have seemed 'different' for some viewers of the show, yet as the weeks progressed, it was this little 4ft 11inch lady that was constantly cooking up a storm.
She was no longer 'the Asian contestant' but the 'favourite baker'. Her creations became the talk of the series rather than her faith, and her way of life was accepted as British, not foreign.
There are a number of approaches one can take in tackling prejudices, from publically speaking out about misconceptions, to carrying out angry counteracting actions.
Perhaps, like Nadiya so eloquently mastered, by just being ourselves, we can show that the differences we have between our cultures are minimal in comparison to our similarities.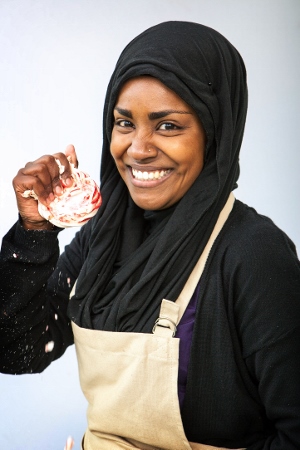 Of course, not everyone has a platform such as the Great British Bake Off to work with, but Nadiya has now paved the way for others to follow. Her modesty, politeness and relatability crosses all cultures.
The Great British Bake Off is the nation's most watched show, and you could ask why race and faith should not even come into it at all.
Well apparently, according to some columnists and Twitter users, there is such a thing as being 'too politically correct'.
This year's line-up was the most diverse yet with one Daily Mail article even commenting that 'middle-class' contestant Flora Shedden didn't stand a chance, adding 'perhaps if she'd made a chocolate mosque, she'd have stood a better chance'.
Unfortunately, what may have been meant as a cheap joke, can also be seen as counter-productive.
Why speak about race at all when the competition is about baking? What difference does it make whether the winner is an atheist, Christian, Buddhist, Muslim or Hindu? The answer, it doesn't.
It was a ridiculous comment, with even Prime Minister David Cameron backing Nadiya to win the competition – not because of her background but, as he says 'because she stays cool under pressure' – sound relatable Mr Cameron?
It is perhaps too easy sometimes to publish a negative news story than to search for the positives out there. Thankfully, we did not need to search for Nadiya.
The mum-of-three from Leeds won the Great British Bake Off on 7th October, but her biggest achievement, perhaps unbeknownst to her, could be the positive image she has given Muslim women right here in Britain.
Congratulations Nadiya.