The most powerful SUV in the world
---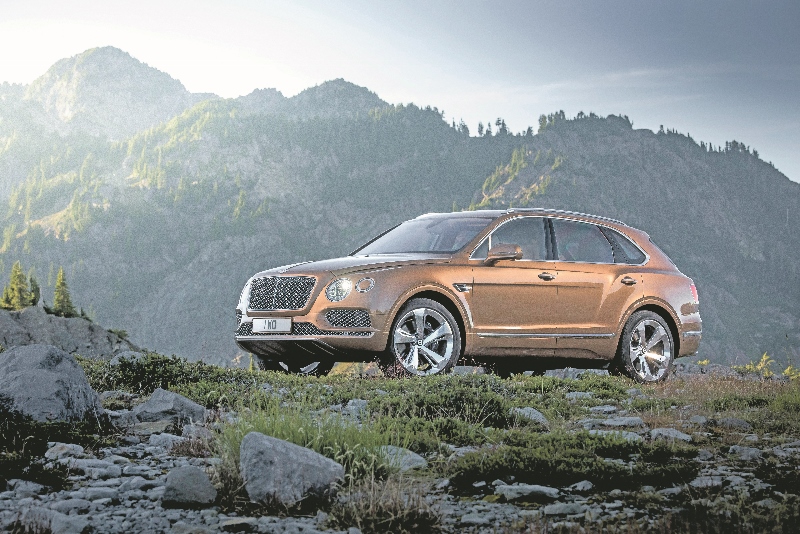 Innovative Bentley Bentayga stated as the fastest and most luxurious off-road vehicle
• Combines unparalleled luxury with sporting ability, off-road performance and everyday usability
• All-new Crewe-built W12 offers unrivalled power and torque, efficiency and refinement, the most powerful and fastest SUV ever
• Innovative and advanced technology – cutting-edge features with trademark exquisite luxury
• Intricate detailing and precision in wood, metal and leather creates a modern, luxurious handcrafted interior
Bentley Motors has unveiled details of its pinnacle, sector-defining new model, the Bentayga – combining unparalleled luxury with effortless performance and everyday usability.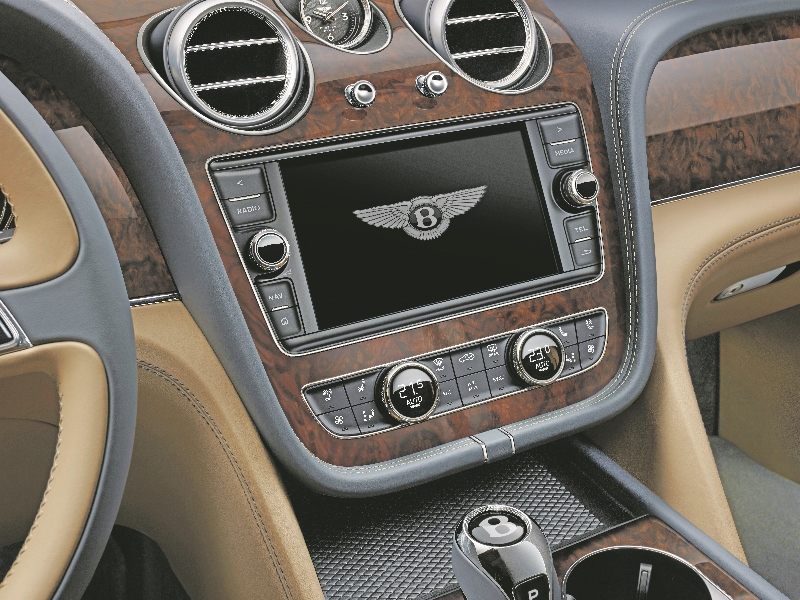 With an all-new W12 powertrain, the Bentayga is the fastest, most powerful, most luxurious and most exclusive SUV in the world. It offers a true Bentley driving experience and showcases innovative technology features.

Designed, engineered and handcrafted in Crewe, the Bentayga's styling is pure Bentley. Sculptural with an elegant, timeless execution, it perfectly balances athleticism with confidence. From the four round LED headlamps and large matrix grille, to the distinctive power line and muscular haunches, the Bentley DNA is apparent throughout.

The Bentley Bentayga boasts the world's finest automotive cabin, with unrivalled levels of precision. The detailing in metal, wood and leather – including meticulous tolerances between elements of trim – is the epitome of modern British luxury.

An all-new twin-turbocharged 6.0-litre W12 engine is at the heart of the new Bentayga. The mighty 12-cylinder unit combines efficiency and refinement with ultra-luxurious levels of power and torque. With 608 PS (600 bhp / 447kW) and 900 Nm (663 lb. ft) delivering a 0-60 mph time of 4.0 seconds (0-100 km/h in 4.1 seconds) and a top speed of 187 mph (301 km/h), making the Bentayga the world's most powerful and fastest SUV.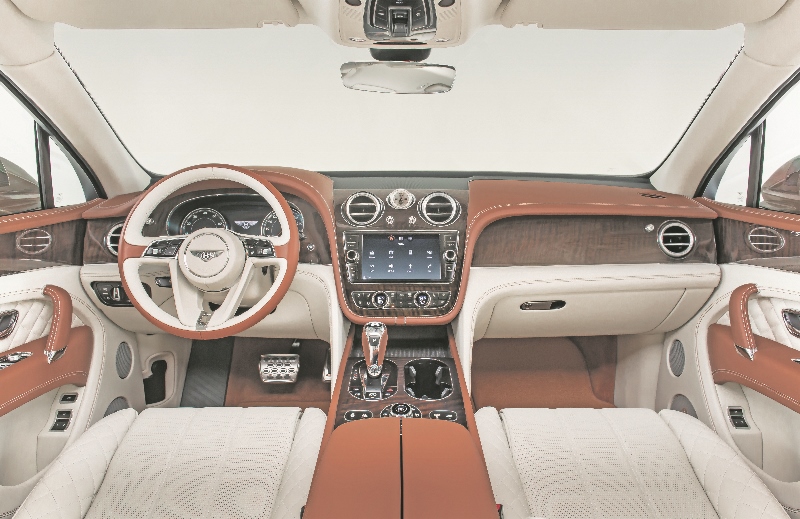 The W12 engine sees a 11.9% efficiency improvement compared to the existing powertrain. The Bentayga will also be available as diesel and hybrid variants in the future.

A suite of state-of-the-art driver assistance systems and infotainment features designed to enhance safety, comfort and convenience make the Bentayga an innovative, advanced and connected luxury SUV.

It offers the widest range of on- and off-road drive settings of any vehicle via Bentley's Drive Dynamics Mode and optional Responsive Off-Road Setting. Up to eight modes are available, allowing drivers, at the simple turn of a dial, to select the perfect dynamic set-up for any surface or road condition. This versatility is complemented by Bentley Dynamic Ride (electrically activated 48V active roll control) and Electric Power-Assisted Steering (EPAS).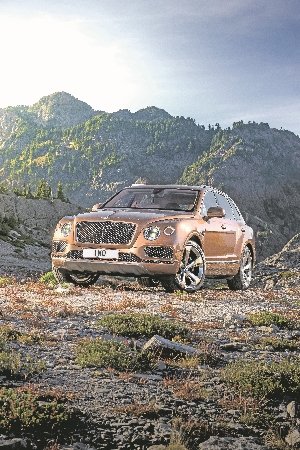 Responsive Off-Road Setting allows the customer to select the appropriate vehicle settings for a wide range of off-road surfaces, while the Driver Information Panel displays information on pitch, roll, wheel articulation, steering angle, compass bearing and altitude.

Adaptive Cruise Control (ACC) including Stop & Go, Predictive ACC and Traffic Assist enables the driver to maintain a set distance to the vehicle in front. Predictive ACC uses the navigation data, sensors and cameras to predict upcoming corners, city boundaries and speed-limit changes and can then modify the vehicle speed accordingly, improving both comfort and fuel economy.

In urban environments, there are a number of driver aids available on the Bentayga. These systems – such as Traffic Sign Recognition, which detects a wide variety of traffic signs and displays information to the driver; Rear Crossing Traffic Warning, which uses radar technology to detect crossing traffic when reversing out of a parking space; and Top View, a system which uses four cameras to display an overall picture of the vehicle's surroundings – combine to enhance everyday usability.

The Bentayga is also available with Park Assist – a system that detects suitable parking spaces (both parallel and perpendicular) before autonomous steering takes over to support parking manoeuvres, even in narrow and tricky spaces.

Other innovative systems available on the Bentayga include Electronic Night Vision, which uses infra-red technology to identify potential obstacles ahead, and a Head-Up Display, which reduces driver distraction and increases safety.

The Bentayga's all-new 8" touch screen infotainment system boasts class-leading navigation technology, a 60GB hard drive, and a choice of up to 30 languages.

Rear seat passengers benefit from the introduction of the Bentley Entertainment Tablet – a removable 10.2" Android device with 4G, WiFi and Bluetooth for effortless, high-speed on-board connectivity.


Customers can choose between three different sound systems for the Bentayga: Bentley Standard Audio, Bentley Signature Audio and Naim for Bentley Premium Audio. The latter is the most powerful system in the segment, with 1,950 watts, a network of 18 speakers and super-tweeters for unrivalled recreation of the highest audio frequencies.

Step inside the new Bentayga and you find the finest automotive interior in the world, with handcrafted wood and leather throughout – engineered with precision to deliver absolute perfection.

The attention to detail in metal, wood and leather is the epitome of modern British luxury, and is only achievable thanks to the exceptional skill of the workforce in Crewe.

The Bentayga's cockpit sets new standards for both luxury and precision, with meticulous tolerances between the exquisite veneered woods and metal elements. The dashboard takes the iconic Bentley 'wing' design as its inspiration, with the beautifully finished surfaces flowing gracefully from door to door over the top of the instrument binnacles, down under the centre console and back up around the passenger side fascia and foot well.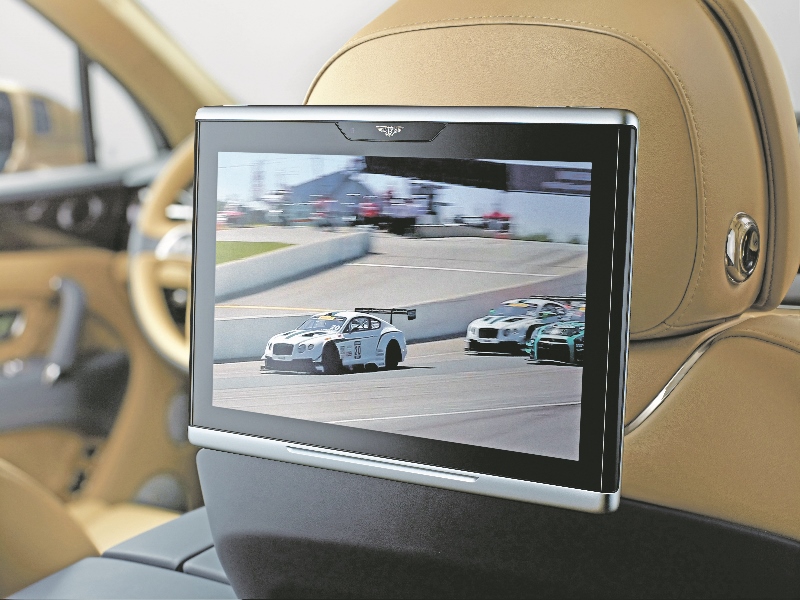 The hand-selected veneers form pure and elegant surfaces throughout the cabin, and each of the 15 pieces are shaped by Bentley's artisans from a choice of seven different veneers, and finished with trademark Bentley attention to detail.

Highly polished, handcrafted metal elements adorn the dashboard, centre console and doors. Trademark Bentley knurling on the drive mode selector, gear knob, iconic bulls-eye vents and organ pulls adds sophistication and tactile refinement.

Wolfgang Dürheimer, chairman and chief executive of Bentley Motors, comments: "The Bentayga is truly the Bentley of SUVs. It redefines luxury in the SUV sector and offers a genuine Bentley experience in any environment, thanks to a combination of unparalleled attention to detail, go-anywhere ability and cutting-edge technology.

"With this extraordinary car we are looking forward to an exciting period of strong growth and sales success for Bentley. The Bentayga is the next step in our brand's bold future."

The Bentayga will make its full public debut at the IAA Frankfurt Show this September. Customer deliveries commence in early 2016.