Ashfaq targets top prize ahead of 'huge' 12 months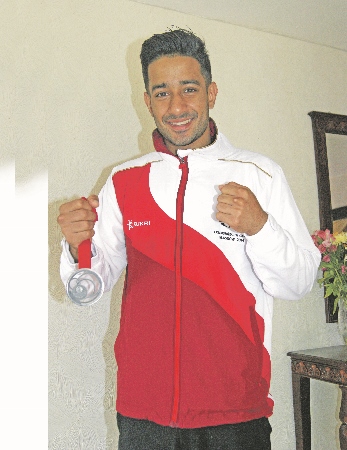 Having clinched a Bronze medal at the Baku European Games in June, Team GB boxer Qais Ashfaq says he is more determined than ever to secure a 'golden' ticket for the Rio Olympics as he prepares to take on his latest challenge.
On Monday 3rd August, the 22-year-old flew out to Sofia, Bulgaria, alongside the British squad as the qualification pathway for next summer's Olympics began with the EUBC European Boxing Championships.
Boxers that finish in the top six in their weight class in Sofia will secure a place at the AIBA World Championships in Doha in September 2015, which is a qualifying event for next year's Olympic Games.
Ashfaq admits that he knows the competition will be tough but only has one goal in mind.
"I want to win Gold," he said prior to flying out. "There will be some tough competition in Sofia but I know that I can beat anyone in my weight division on my day.
"To win Gold in the Euros would set the momentum rolling for the Worlds and then it is onto the Olympics."
Prior to the tournament, Ashfaq had been training in Sheffield with competitors from Italy, Ireland, Slovakia and Morocco, as he prepared for the tournament.
Competing at bantamweight, he has already built up a reputation at amateur level, and is focussed on his first fight this week.
"Training has gone really well and the training camp in Sheffield helped me sharpen up ahead of the championships," he added.
"I have had to overcome a few injuries in the past year but I feel better than ever and ready to compete now."
Ashfaq's debut in the Euros will be another learning curve for the young Leeds boxer, who shone on the international stage last year, picking up a Silver medal at the Commonwealth games.
GB Boxing's Performance Director, Rob McCracken, said: "This is a very talented group of boxers and the European Championships is an opportunity for them to demonstrate their quality and show they have what it takes to compete at the highest level and get to the Olympic Games next year.
"The fact that it is part of the qualification pathway for Rio is an extra incentive for all of the boxers who will be looking to add to the success we have enjoyed at this competition in recent years."
Ashfaq is joined by six other boxers, including Keighley Flyweight Muhammad Ali, with the competition running until Sunday 16th August.