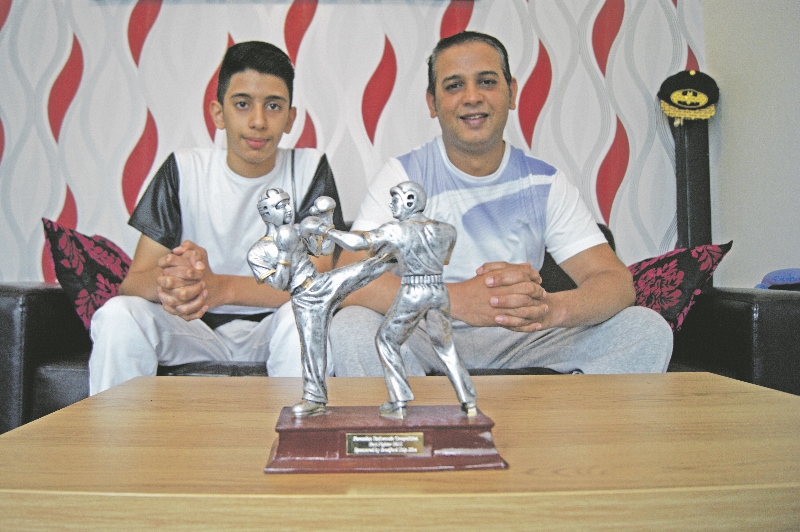 Good things come in threes for martial arts champ
A teen taekwondo star from Bradford is quickly earning a reputation in the sport after picking up a hat-trick of accolades last week – just 12 months after his first lesson.
Thirteen-year-old Haroon Ashraf has taken little time to find his form, with his 'natural talent' seeing him defeat opponents with far more experience than himself.
Last week, he earned the Best Fighter of the Day Award at the United Martial Arts Academy Taekwondo Competition, after clinching gold in both junior sparring and patterns categories.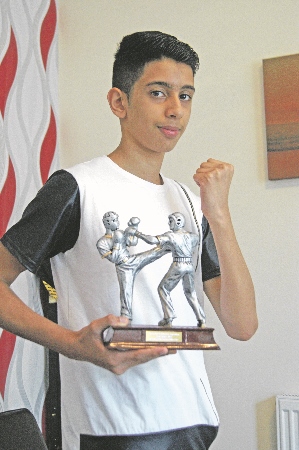 Excelling in all forms of the sport, the purple belt student trains twice a week in the city, with additional practice at home.
Speaking about his meteoric rise to success, Haroon says he wasn't expecting such a dominant performance in the club competition.
"I got into the sport because my dad used to do it and he told me to give it a go," he said.
"I didn't expect to win all three trophies at the competitions last week because there were guys there who had been training for up to six years in the sport.
"It felt really good to win."
Haroon kicked his way to the championships on Sunday 12th July in front of his coaches, Mohammed Zamoord and Waheeb Sabar – both national champions.
Following on in his father's footsteps, Haroon now hopes to continue progressing through the belt grades whilst gaining experience in more tournaments.
Coach Zamoord says the young competitor has a 'natural talent' and is confident he will only continue getting better.
"Haroon had an amazing day," Zamoord said. "He brought back memories of when I used to fight in competitions and scored two head kicks that any taekwondo practitioner would have been proud of.
"I believe he has a natural talent combined with a lot of hard work and commitment – he never misses a class.
"His father also has to take a lot of credit for the passion and belief he has in his son's abilities when competing."
If you would like any further information about the United Martial Arts Academy please contact Zamoord on 07852 897 509.