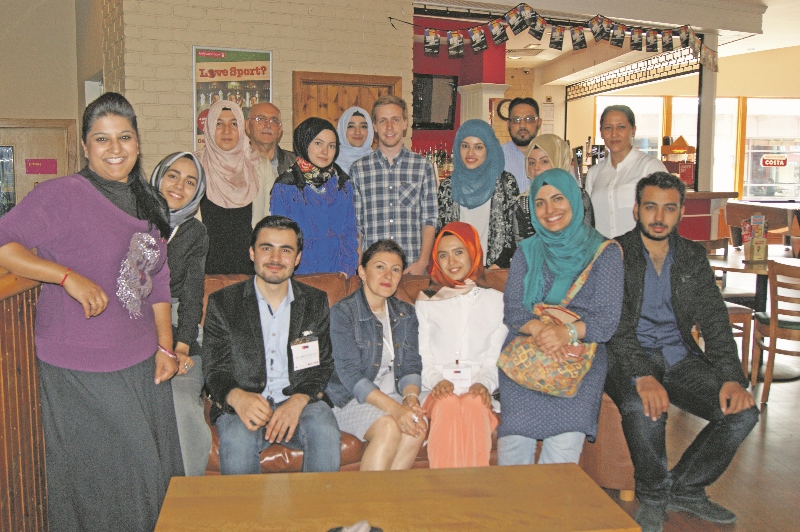 Project aims to unite communities across the world
A group of emerging leaders from Istanbul visited Bradford for the first time last week as part of a pioneering exchange programme aimed at uniting communities and empowering the youth.
Eight students from the World Academy Local Democracy (WALD) were greeted by members of the city's Intercultural Communication Leadership School (ICLS), who had visited Turkey back in May to attend the Youth Summit 2015.
Amongst them were President of the ICLS, Selina Ullah; CEO of the Muslim Women's Council, Bana Gora; and ICLS Alumni, Noreen Khan – who developed the successful Junior version of the ICLS programme in 2014.
The programme endeavours to build bridges between communities whilst creating spaces that build community leadership and resilience.
Last week, the Turkish delegates were greeted by Bradford's Deputy Lord Mayor, Cllr Abid Hussain, at a Civic reception in the Banqueting Suite, followed by a visit to City Hall.
The delegates took part in a round table discussion on youth engagement and civic participation with elected members from Bradford including Cllr Susan Hinchcliffe, Cllr Mohammad Shabbir, Cllr Ishtiaq Ahmad and Cllr Nussrat Mohammad.
This was followed by an invitation to the Muslim Youth Conference, hosted by the Hamara Centre, at Aagrah Midpoint.
Speaking at the event, Hanif Malik, CEO of the Hamara Centre, expressed his delight to host the guests from Istanbul on the occasion of the launch of their report – Muslim Youth Speak.
The rigorous schedule for the WALD members also included a visit to the Student Campus at the University of Bradford where   the young leaders delivered presentations of their Youth Engagement and participation project from Istanbul.
Selina Ullah, speaking on behalf of ICLS, praised the project and thanked all the members involved.
She said: "The relationship between ICLS and WALD is extremely strong and we already have a number of other projects in the pipeline going forward.
"The Turkish group were very hospitable during our trip to Istanbul. ICLS would like to thank everyone who came together to make this visit as successful as it was for our guests."
This is the first partnership initiative between ICLS and WALD and a beginning of a partnership that hopes to develop reciprocal new initiatives that enhance mutual learning and free movement of ideas between the UK and Turkey.
The second part of the tour for the Turkish delegation was a meeting with EU policy makers from Brussels.
This was again organised by ICLS to further strengthen the work in youth participation and active citizens.