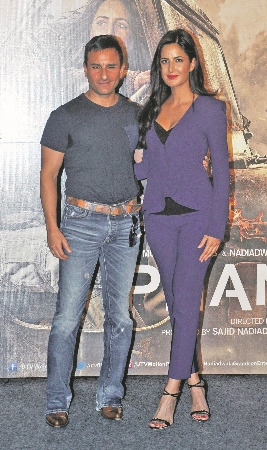 Ranbir Kapoor and Katrina Kaif's relationship has been the talk of Bollywood for quite some time now – the family dinners have taken place, the couple have moved in together and all we're now waiting for is the wedding announcement.
While Kareena Kapoor has been immensely supportive for Ranbir's affection with Katrina, she has left no chances to praise her future-sister-in-law in front of the media. Looks like her husband Saif Ali Khan is now going the same way too.
During the trailer launch of movie 'Phantom', in which Saif and Kartinal co-star, Saif was going gaga over Katrina.
"I think Katrina is one of the most lovely girls I've worked with," said 44-year-old Saif speaking to the press.
"… and anybody would be lucky to have her as girlfriend, fiancee or in the future something more."
After working with her for the second time since 'Race', the actor termed her as, "One of the most beautiful and biggest stars in Bollywood."