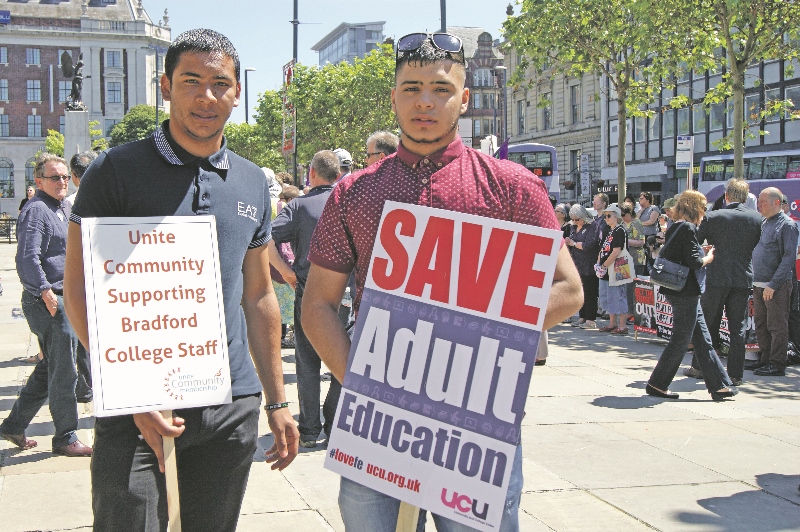 Protestors gather to campaign against government cuts
'Stop cuts to education' was the message being echoed on The Headrow earlier this week as around one-hundred protestors gathered in Leeds to voice their concerns over government funding.
Organised by the University and College Union (UCU), the visual demonstration was held from around midday on Tuesday 30th June, with teachers supported by students and members of the public.
Amongst the crowd were sabbatical officers, Zahir Abbas and Shamrez Akhtar, from the Leeds City College Student's Union.
They joined the protest in support of adult education – one of the areas hardest hit by recent cuts.
Zahir explained: "Everyone has a right to education and the government should not be making it harder for people over 18 to have access to learning.
"We are here to show that we will not stand for this and unite with the people here today."
Since 2010, the adult skills budget, which funds non-academic learning and training (university-based), has been slashed by 40 per cent.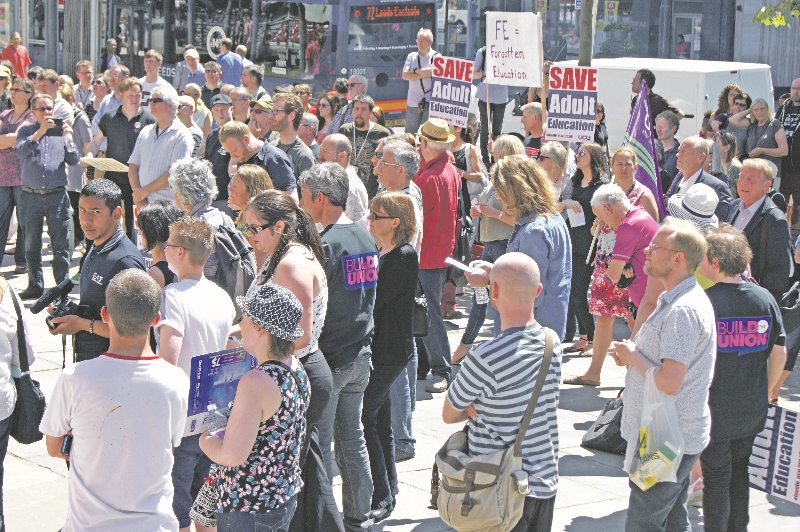 As well as voicing concern over nationwide cuts, protests were also held outside Bradford College earlier in the morning before joining the Leeds contingent later in the day.
A dispute over cuts at the college resulted in staff demonstrating outside their Great Horton Road-based buildings in the morning.
Two separate college strikes, at Barnsley and Mid-Cheshire, were called off at the eleventh hour after striking deals with the respected places of education.
UCU general secretary Sally Hunt, said that strike action was always the last resort but supported the action of Bradford's members.
She said: "Colleges are experiencing some financial difficulties at the moment, but the answer is to work with us to explore all the options available – not axe staff.
"We are pleased Barnsley and Mid Cheshire colleges responded positively today and strike action won't be necessary there.
"Members will be walking out at Bradford College though, and then making their way to Leeds for a regional rally in defence of further education.
"Strike action is always a last resort but, in the face of redundancies and lost opportunities, members feel there is no other option."