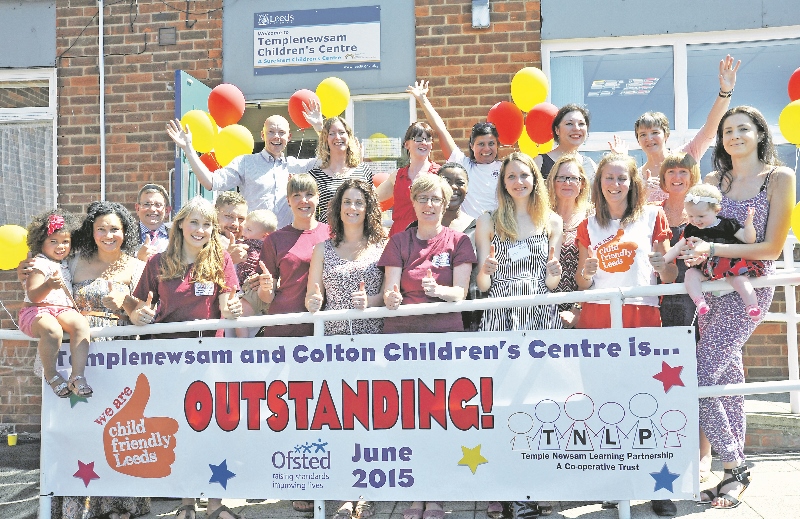 Children centre is top of class with Ofsted
Children and families from East Leeds can expect an outstanding service at their local children's centre after government inspectors were blown away in their latest review.
The Templenewsam and Colton Children's Centre has been judged as 'Outstanding' in every aspect during its first inspection by the regulatory body Ofsted.
The centre, which was visited by inspectors last month, was assessed on their access to services, the quality of their practice and service, and the effectiveness of leadership, governance and management. It was deemed to be outstanding in every category.
The inspectors described the centre as having an outstanding impact on families' lives adding: "From helping to improve children's readiness for school to supporting those experiencing domestic violence, staff are…always there."
The report highlights that all local children under five-years-old are registered with the centre thanks to 'exceptionally well-planned, thoughtfully targeted and persistent outreach work… combined with extremely close working with other professionals'.
Councillor Lucinda Yeadon, executive member responsible for children and families said the centre's staff should be proud.
"This is an exceptional report and very well deserved," she said. "The team at Templenewsam and Colton really do put the children and families in their community at the heart of everything they do.
"This report demonstrates how impressed the inspectors were of this centre – the managers and team should be really proud of what they have achieved.
"Children's centres are a vital cog in the wheel to help us achieve our ambition to be the best city to grow up in.
"They can help to make sure that children get the best early start and are ready for learning as soon as they go to school. They also offer support to ensure that families are not isolated within their communities."
As well as the children, the leadership of the centre was another area highlighted for praise with the report commenting: "Outstanding leadership, governance and management at every level underpin the high effecting work of this centre.
"Exceptionally sophisticated and reflective analysis of the needs of the area and it's families means that services are constantly under review, adapted and improved."