Care of terminally ill Bradford patient commended on national stage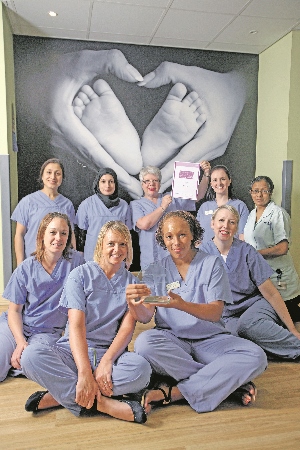 A Bradford Teaching Hospitals' team, whose care and compassion shone through when caring for a terminally ill patient, have spoken of their experience during a national conference aimed at raising awareness of cancer during pregnancy.
The group from the Bradford Royal Infirmary's labour ward talked about the unique challenges they faced when working alongside the Trust's palliative care team to support first-time mother, Nasreen Akhtar, 36, after she discovered she had terminal cancer.
The initial plan to discharge Nasreen from the maternity unit following her baby's birth at just 28 weeks gestation never materialised as she became too ill to continue with planned treatment.
Nasreen continued to be nursed on the labour ward for more than a month until she passed away. The proximity of her room to the neonatal unit next door enabled Nasreen to spend more time with her baby at any time of the day or night.
Speaking at the conference at Salford University on Thursday 18th June during national Cancer and Pregnancy Awareness Week were labour ward matron, Sheila Nolan and midwives, Jodie Adams and Rachael Jones. Sheila told fellow health professionals how a team came together with a single vision to develop a palliative care plan.
This plan maintained the very best of standards to support Nasreen and her family, with the support of the hospital's chaplaincy team.
She added: "Nasreen deserved the time to bond with her baby like any other new mother. By facilitating palliative care on the labour ward, we were able to ensure that mother and baby were kept in close contact and able to spend precious time together.
"To be able to provide continuity of care many of us stepped outside our comfort zone as we deliver babies daily but had no or little experience of providing palliative care.
"Our midwifery team bonded together to provide a core service in delivering Nasreen's care – many of whom volunteered to work extra shifts to ensure that Nasreen always had someone she knew with her at all times.
"This was an extraordinary case with exceptional circumstances. Nasreen was with us for just over four weeks before she passed, and for every day of that time she was a mother first and a cancer patient second. Caring for such an inspirational, courageous and extraordinary individual was a privilege and has left a lasting impression on all of us."
The conference was hosted by the Mummy's Star Charity and also heard from speakers from across the UK and Europe.