Amateur cyclists complete huge journey on two wheels
A team of 16 self-confessed 'novice cyclists' jumped on the saddles of their bikes last month to complete a 130-mile route in aid of a local faith organisation.
Members of the Shipley Masjid Association (SMA) donned their helmets and cycling gear as they took on the Leeds-Liverpool canal challenge, tackling all types of terrain along the mammoth waterway.
With many participants not even owning a bike, it was a new experience for most, yet one they said they would happily do again.
"The bike ride itself was challenging. It was gruelling. It was beyond painful," SMA President, Arnie Sajid, said.
"It was beyond anything any of the cyclists had done before and as such, we each knew it would take a great strength of will and fortitude to complete.
"But we knew it could be done. By the grace of Allah and the unflappable spirit of the cyclists, it would be done."
The sponsored bike ride is the first time the SMA has gone beyond the local community in its appeal for financial support.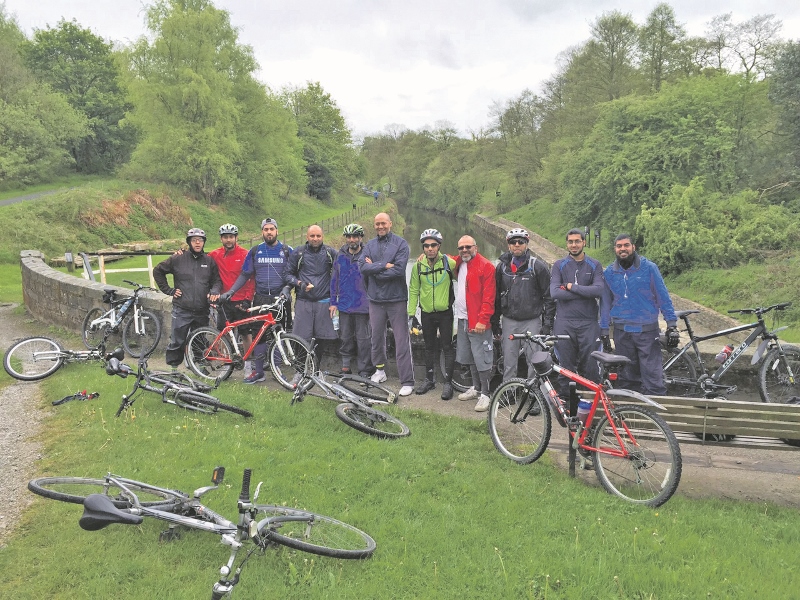 Setting off in Liverpool, the group passed through Wigan and onward to Burnley in their first day of cycling, covering almost 78 miles.
Describing the journey as 'unforgiving and treacherous', Arnie added: "There was barely any track at all – it was as if no one had set foot on the path in years.
"One by one each cyclist arrived gingerly at the lobby of our overnight hotel in Burnley after clearly riding their hearts out. We had done it. Day one was over and it was time for us to finally rest and eat."
The second day proved even tougher than the first, as the team awoke to 'stiffness' and 'creaking joints' yet remained determined to complete the challenge with 58 miles left to go.
Eventually arriving in Leeds after a six hour journey, the group finally dismounted from their bikes for a much welcomed rest.
"Aside from a few falls, a couple of punctures and some very painful leg cramps, we arrived at our destination unscathed," Arnie said.
"It was over and we had accomplished what we had set out to do. I'm certain some of the cyclists cannot fathom still how they arrived at the end after completing almost 130 miles over the worst terrain they've ever seen.
"The 'never say die' spirit, the need for a personal achievement, the cause for what this ride was intended for in the first place and our unrelenting faith in Allah, had eventually seen us home. We would do it again in a heartbeat."
If you would like to make a donation to the SMA please visit www.totalgiving.co.uk/ mypage/Liverpool2Leeds.