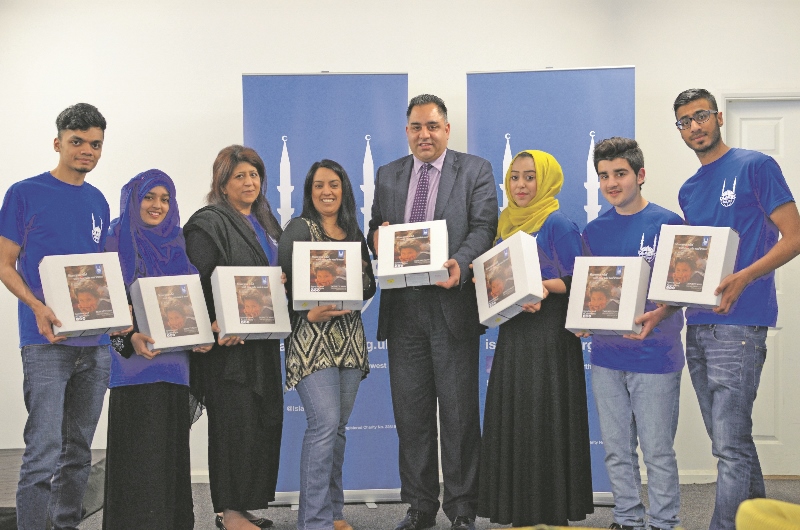 Two Bradford MPs showed their support for one of Ramadan's most socially active grassroots campaigns last weekend as they praised the positive contribution of young British Muslims.
The #Cakes4Syria campaign aims to raise funds for Islamic Relief's 'Syria Crisis Appeal' by delivering £10 chocolate fudge cakes to people's doorsteps around the country on Wednesdays and Sundays throughout the holy Islamic month.
The project provides local communities not only with a treat with which to break their fast, but also an enjoyable way for families to support those caught up in the Syrian crisis.
The campaign has yet again proven to be a resounding success this year as within ten days over 2,500 cakes had been sold, raising in excess of £25,000 in the process.
On Sunday 28th June, Bradford MPs Naz Shah and Imran Hussain visited the Cake Campaign HQ, in the city centre, to praise the work of the young fundraisers.
Mrs Shah, MP for Bradford West said: "The #Cakes4Syria campaign is an incredible campaign that would not have come about if it were not for young people in Bradford and now across the country wanting to make a difference.
"We hear on a daily basis about the tiny minority of Muslims who travel to Syria, but rarely do we hear about the thousands of young people who are channelling their concern for the victims of this brutal conflict through the vital support that charities provide.
"We should be championing these young men and women and I hope people will join me in supporting this worthy cause by ordering a cake today."
Imran Hussain, MP for Bradford East, added his praise for the positive contribution from young British Muslims to society.
"I am really happy to support this campaign," he said.
"In the holy month of Ramadan it is really heartening to hear about such a positive initiative driven by young people in Bradford.
"At this time it is especially important that we celebrate the positive contributions that young Muslims are making and so I whole-heartedly applaud this initiative by #Cakes4Syria."
Since 2011 the Cake Campaign has expanded nationwide and gone from strength to strength. It now employs over 1,000 volunteers, delivers to more than 1,000 UK postcodes, and generates over one million social media interactions.
Despite the success, officials from Islamic Relief say they are still concerned with negative connotations surrounding Muslims in the UK.
Last week a YouGov poll – commissioned by the charity- revealed that the words most associated with Muslims were terrorist and terrorism.
Zia Salik, Islamic Relief's National Community Fundraising and Volunteer Manager, said she hoped initiatives like #Cakes4Syria would help show the 'true heart of British Muslims'.
"This campaign was born of young British Muslims wanting to make a positive change for the millions caught up in the Syrian crisis – which has left a staggering 16 million people in need of humanitarian aid," he said.
"Every day we are bombarded with stories about British Muslims being linked to terrorism, despite the numbers involved accounting for a tiny 0.02 per cent of the Muslim population.
"I hope this initiative will really demonstrate the true heart of British Muslims. Like most people in Britain, we are appalled at the suffering of the Syrian people and want to help provide the food, shelter and medical aid they so desperately need."