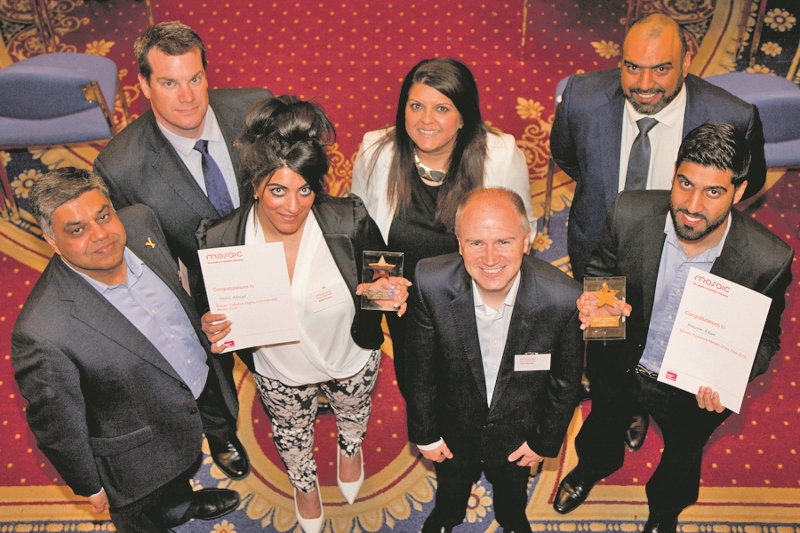 Celebrating the achievements of Mosaic's volunteers
Mosaic, a mentoring charity set up by HRH The Prince of Wales in 2007, celebrated it's mentors who create opportunities for young people growing up in our most deprived communities by helping to raise their aspirations and better fulfill their potential.
Guests at the event on Tuesday 9th June, which took place at Leeds Town Hall, included business leaders and volunteer mentors who have expertly supported Mosaic's mentoring programmes during this academic year.
Keynote speaker was Tom Riordan, Chief Executive of Leeds City Council. The event was hosted by entrepreneur Ajaz Ahmed, who is also a Mosaic champion and mentoring advocate.
The evening was held to celebrate the importance of mentoring and in particular Mosaic's mentors, their hard work and commitment to the young people it supports as well as recognising the hard work Mosaic's network, teachers and supporters continue to dedicate to the range of programmes.
Ibrar Ali, Regional Manager for Mosaic in Yorkshire commented: "It's great to be able to get  together and celebrate with so many of our corporate supporters and volunteer mentors.
"Our mentors freely give up their valuable time to help the young people from this region and without their continued support, we simply wouldn't be celebrating our success here today.
"We want to thank all the mentors, companies and organisations who have tirelessly supported our programmes throughout the year and helped to inspire so many young local people."
Tom Riordan said: "I'm a great believer in the power of mentoring and it is encouraging to see such positive outcomes from the Mosaic programme across our region.
"The legacy of such important work will be felt for many years. It's not hard to see that the teamwork, commitment and dedication shown from mentors and mentees is really paying dividends in communities that need it most."
Mr Riordan also presented a number of outstanding mentors with awards. Waseem Khan, a manager with Hentons accountants in Leeds, was presented with the Mosaic Yorkshire Mentor of the Year award.
Special commendations were given to Jack Richard for his work on the Enterprise Challenge and Secondary mentoring. Sadia Ahmad and Saiqa Khan-Khawaja were recognised for their outstanding achievements on Mosaic's ex-offender mentoring programme and primary school programme respectively.