Bringing aid to those most in need
---
Ramadan Deployment Team target 'forgotten' refugees
An aid volunteer who returned from the borders of Syria last week, says the humanitarian situation on the ground is only 'getting worse' and urged others to consider the refugees' struggles this Ramadan.
27-year-old, Nazim Ali, returned from his seven-day expedition on Wednesday 10th June, having spent time delivering over 2,000 food parcels to some of the world's most vulnerable people.
As part of a 12-man convoy, made up of US and UK volunteers, the Bradford man travelled to the Turkish province of Hatay as a representative of the SKT Welfare Charity's 'Ramadan Deployment Team'.
Despite completing a similar aid trip less than one year ago, Nazim said that this latest venture still produced some 'shocking' and 'horrifying' truths.
"This visit was most certainly life changing, enriching and emotionally challenging as we provided much needed aid to the externally displaced Syrian refugees," he said.
"We visited countless families living in partially built homes with no doors or windows and in tents. They were in need of food and water – basic commodities we take for granted.
"Just as many of us will be fasting in Ramadan, so will they. The only difference is that we will be doing Ramadan in our homes with our loved ones and in the presence of an abundance of food. They, however, will be struggling to afford basic items such as dates and water."
Since violence broke out in Syria almost five years ago, millions have fled the war-torn country, with over 1.7million people currently seeking refuge in Turkey.
Men, women and children are currently without food and permanent shelter, with the need for aid growing every day.
During Nazim's most recent visit, he covered his own travel costs to ensure 100 per cent of his received donations went directly to the charity, even turning down an all expenses paid trip to Istanbul with work in favour of the aid mission.
Having raised over £15,000 prior to departure, the local secretary of Bradford's Naqshbandia Active Development Association (NADA), completed 12-hour days, delivering aid where it was needed most.
Adding about the experiences he witnessed, he said: "The abject poverty I witnessed was truly shocking with mothers struggling to feed their offspring and offering their children for adoption so that they will be in a better position to be looked after.
"We heard horrifying accounts of the killing of parents with many children witnessing the gruesome murders and visibly looking traumatised.
"I have to be honest, on several occasions I came close to tears after witnessing the aforementioned."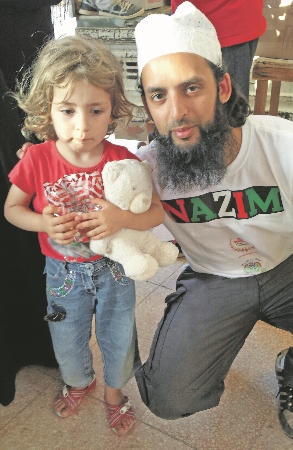 Nazim's highlight of the trip came in the small town of Kilis, where volunteers visited a school to distribute special treats for the orphaned children.
"The toys, sweets and chocolates we provided put a smile on the faces of these innocent children which was enriching for us knowing we were the reason for those smiles and the very reason we worked tirelessly in raising vital funds," he said.
"I am most grateful to the British public for their generous donations.
"It is important we do not forget about the externally displaced Syrian refugees who are suffering from the conflict in their country. The humanitarian situation on the ground is getting worse with almost two-million externally displaced Syrian refugees in Turkey alone."
The SKT Ramadan Deployment Team targets those outside refugee camps who receive little or no support, including Syrian widows and orphaned children.