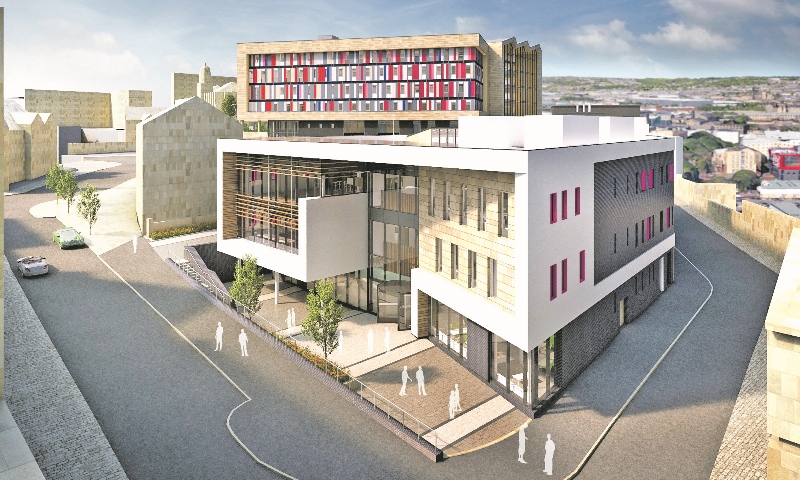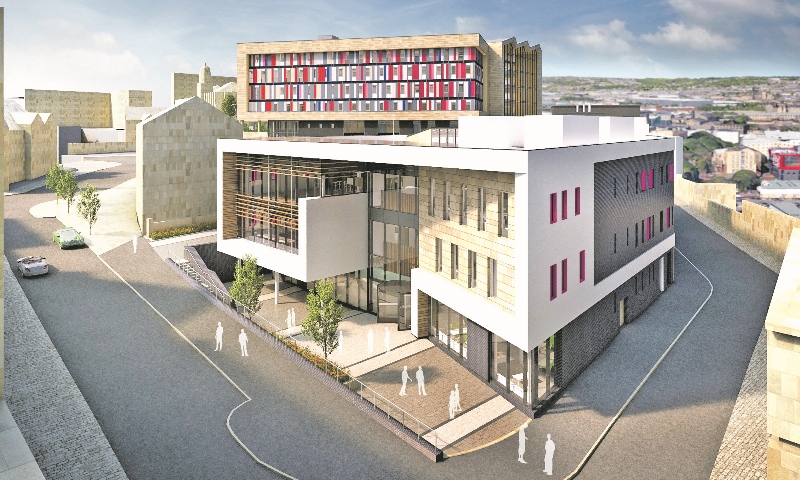 Bradford College has been awarded Leadership Academy status at an official ceremony held at the College's Trinity Green Campus by Sports Leaders UK on Thursday 4th June.
Sports Leaders UK is a charity delivering sports leadership awards and qualifications for 200,000 people a year, through 4,000 schools, colleges, local authorities, prisons and young offender units. It acts as an Awarding Body providing nationally recognised qualifications.
Bradford College has been recognised for its provision of high quality training and excellent skills development, which has had a positive impact on the local community through the Sports Leaders and the activities they run.
Rob Watson, Operations Officer for Sports Leaders UK was delighted to present Bradford College with the award during the official ceremony.  Speaking at the event Rob said: "The Leadership Academy status that has been awarded to Bradford College is a status for excellent practice in delivery of Sports Leaders UK qualifications. It highlights the College's key commitment to its learners personal and professional development through additional learning, integrated into their normal study programme.
"Bradford College deliver the pathway of Sport Leadership from Level 1 through to Level 3, giving learners of all levels the chance to experience delivering sports activities to a range of children. These courses are often the basis of a career in coaching, teaching and fitness, giving learners their first experience of leading up to 30 children at a time. It is these experiences that build employability skills in these learners such as teamwork, communication, organisation, time management. These skills are crucial in taking the learner to the next level beyond college, whether that is employment, university or apprenticeships."
Sports Leaders UK courses change lives, sometimes even save lives. The range of awards and qualifications equips people with the skills and motivation to create and run sporting activities in the community. Sports Leaders also deliver community activities on a voluntary basis as part of the qualification.
Sports Lecturer Adam Trunks has been working closely with Sports Lecturer Danni Baker to ensure the Sports Leaders receive high quality training, which has had a positive impact on the local community.
Commenting on becoming an accredited centre, Sports Lecturer Adam Trunks said: "I'd like to thank Sports Leaders UK for accrediting the College with Leadership Academy status. The students benefit from this by being able to go out into industry, go to primary schools and work with other academies which have special needs. They gain great life experience as Sports Leaders and it also provides them with knowledge that can help them to progress in employment or Higher Education.  Not many colleges offer this, so it helps our students with their UCAS applications by giving them an extra point, which gives them a competitive advantage over other students going to university."
Sports student Ashley Barton, 19, would like to pursue a career as a Sports Coach once he has completed his studies. Commenting on what he felt he had gained from taking part, Ashley said: "This has really helped me develop my skills as a coach.  If people come to me that have special needs or disabilities, I now feel I will be able to help coach them.  I'm quite a shy person but this is helping to boost confidence, not only in myself, but also in working with different ranges of abilities."
Sports student Tobias Rawcliff, 19, would like to pursue a career in Sports Marketing once he has completed his studies. Elaborating further Tobias said: "Completing the Sports Leaders has given me the opportunity to work with different people, of varying abilities in different environments, which does boost your confidence. It's good to benefit from having an additional qualification as well.  I'm also hoping to secure a work placement with Adidas in Germany next year and I think this will help."
Craven Feeley, 19, added: "We've had the chance to work with children of varying abilities.  I've got a lot out of it! It's been great to build rapport with the children, whilst also developing their sporting skills."