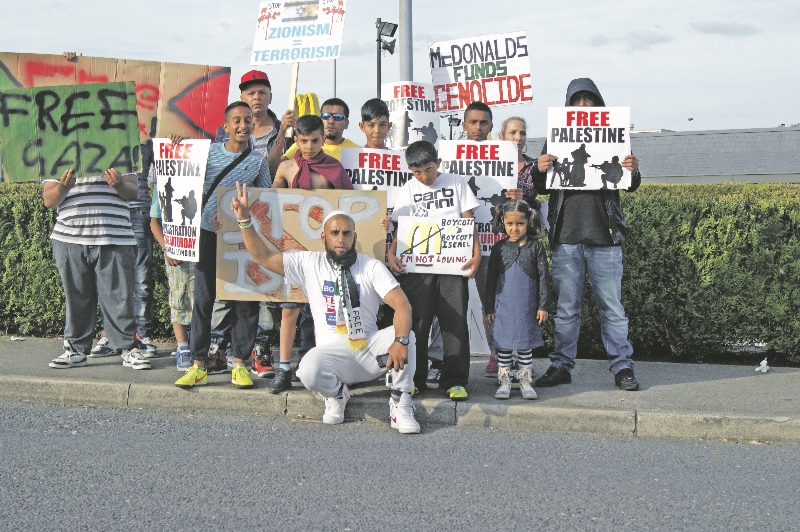 Passion 4 Palestine protestors hit latest milestone
A group of campaigners, who have stood outside a Bradford McDonalds every evening for two-hundred days, are celebrating their latest milestone as they show no signs of stopping any time soon.
The 'Passion 4 Palestine' group have gathered outside the Leeds Road fast food establishment every night since the beginning of August 2014.
According to the group, in excess of 2,200 cars have turned away from the site since their campaign began, with more than 5,000 people opting to eat elsewhere.
The members are campaigning against the fast food giants due to what they describe as 'unethical policies and relations' with Israel, whose relations with Palestine escalated in the Summer of 2014.
More than 1,500 Palestinian civilians were killed by Israeli air strikes during the conflict with Gaza.
Faisal Mohammed, a spokesperson for the Passion 4 Palestine group, insists his team will continue their demonstrations until 'justice' is delivered.
"The mainstream media put the Genocide of over two-thousand Palestinians away on the history shelf and diverted people's attention away from this horrendous crime," he said.
"We refuse to see the genocide as history; we see it as a war crime which hasn't seen justice served to those perpetrators who committed it.
"Today, Palestinians are still being killed. Thousands are still injured, homeless and more land is being stolen every day.
"We must not forget the ongoing struggle and suffering of Palestinians and must continue creating awareness about these issues and show support in every way we can."
He added: "We will continue to show our support and create awareness for the Palestinian people and continue with this boycott. This has been a very successful campaign and we will have many more to come."
Despite some critics in the early days of 'over-zealous' protestors who were described as 'harassing' customers, the group has worked hard to improve its image.
Now carrying out charity work, and distributing leaflets and information to people on the streets, Mr Mohammed explained what the group was doing to spread information.
"People have the right to be informed," he said. "Customers who chose to boycott were provided with leaflets and informed about the Unethical policies and relations McDonalds has with Israel.
"Alongside information about McDonalds, other companies that support, fund or trade with Israel, and its crimes, were mentioned and news about what is taking place in Palestine was given."