Sporting Siblings clean up at local tournament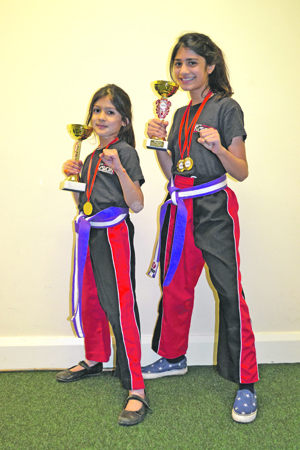 The 'fighting spirit' of two sisters from Bradford shone through earlier this month as they both picked up medals at an annual kickboxing competition.
Kisa and Nida Hamdani, who both attend Bradford Girls Grammar School, were successful in their categories during the highly anticipated 'Fightnight' competition.
Organised by the Fusion Martials Arts club and staged at their centre in the city, Year 8 pupil, Kisa, clinched awards in both continuous fighting and points sparring heats.
Finishing second overall in her age category, the young sporting enthusiast was awarded a silver medal to round off a memorable performance.
Younger sister, Nidah, also found success in her points sparring heat, finishing in first place for her age category and taking home the much decorated trophy.
The Year 4 pupil is following in her sister's footsteps in the sport and showed that kickboxing certainly runs in the family with her convincing display.
Both girls have been attending twice-weekly classes at The Kickboxing Fusion Centre for the past two years and have now progressed to their purple and white belt grading respectively.
With further trophies and belts up for grabs this year, the sporting siblings will be looking to add to their recent trophy haul over the next 12 months.